Reduction of nitrogen compounds in oceanic basement and its implications for HCN formation and abiotic organic synthesis
Geochemical Transactions
2009
10:9
Received: 7 April 2009
Accepted: 22 October 2009
Published: 22 October 2009
Abstract
Hydrogen cyanide is an excellent organic reagent and is central to most of the reaction pathways leading to abiotic formation of simple organic compounds containing nitrogen, such as amino acids, purines and pyrimidines. Reduced carbon and nitrogen precursor compounds for the synthesis of HCN may be formed under off-axis hydrothermal conditions in oceanic lithosphere in the presence of native Fe and Ni and are adsorbed on authigenic layer silicates and zeolites. The native metals as well as the molecular hydrogen reducing CO2 to CO/CH4 and NO3-/NO2- to NH3/NH4+ are a result of serpentinization of mafic rocks. Oceanic plates are conveyor belts of reduced carbon and nitrogen compounds from the off-axis hydrothermal environments to the subduction zones, where compaction, dehydration, desiccation and diagenetic reactions affect the organic precursors. CO/CH4 and NH3/NH4+ in fluids distilled out of layer silicates and zeolites in the subducting plate at an early stage of subduction will react upon heating and form HCN, which is then available for further organic reactions to, for instance, carbohydrates, nucleosides or even nucleotides, under alkaline conditions in hydrated mantle rocks of the overriding plate. Convergent margins in the initial phase of subduction must, therefore, be considered the most potent sites for prebiotic reactions on Earth. This means that origin of life processes are, perhaps, only possible on planets where some kind of plate tectonics occur.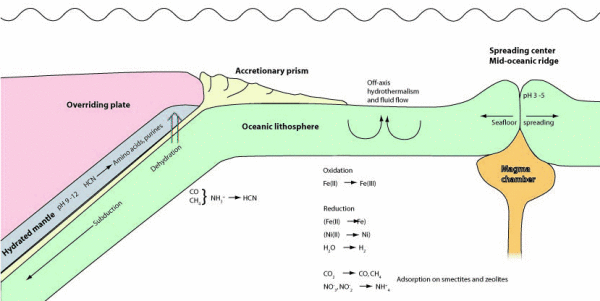 Keywords
Zeolite
Olivine
Subduction Zone
Double Layer Hydroxide
Hydrothermal System
Background
Geochemically plausible abiotic synthesis pathways and concentration mechanisms for nitrogen-containing molecules must eventually be found since nitrogen-based life is likely to have existed on Earth from early Archean onwards [1]. High ammonium contents (54-95 ppm) have been found in authigenic clays of the Isua supracrustal rocks of Western Greenland, suggesting that clays were major sinks of NH4+ or other nitrogen compounds on the Earth's surface already at 3800 Ma [2]. Ward and Brownlee have argued that plate tectonics is necessary for the origin of life on terrestrial planets and have listed a number of reasons in support of their opinion [3]. However, one argument that they have never mentioned is the connection between plate tectonics, hydrothermal geochemistry and reduction of simple carbon and nitrogen compounds suitable for abiotic organic chemistry. In our opinion, the best location where such processes could occur would be at convergent margins during the early phases of subduction of oceanic plates.
Conclusion
Nitrate and nitrite may be reduced to ammonium in oceanic basement in the presence on native Fe or Ni.

The reduction is most efficient in hydrothermal environments.

Ammonium may form hydrogen cyanide with carbon monoxide or methane.

Hydrogen cyanide is an excellent starting compound for abiotic organic reactions.

Oceanic plates are conveyor belts to the subduction zones of organic precursors formed in hydrothermal environments off-axis.

The most potent prebiotic organic reactions on Earth occur in mafic rocks that are in the initial phase of subduction.

The origin of life was, perhaps, only possible on planets with some kind of plate tectonics
Declarations
Acknowledgements
This research has been supported by the Swedish Research Council.
Authors' Affiliations
(1)
Department of Geology and Geochemistry, Stockholm University, Stockholm, Sweden
Copyright
© Holm and Neubeck; licensee BioMed Central Ltd. 2009
This article is published under license to BioMed Central Ltd. This is an Open Access article distributed under the terms of the Creative Commons Attribution License (http://creativecommons.org/licenses/by/2.0), which permits unrestricted use, distribution, and reproduction in any medium, provided the original work is properly cited.