Research article
Open Access
Multiple sulfur isotopes fractionations associated with abiotic sulfur transformations in Yellowstone National Park geothermal springs
Geochemical Transactions
2014
15:7
Received: 1 September 2013
Accepted: 12 March 2014
Published: 28 May 2014
Abstract
Background
The paper presents a quantification of main (hydrogen sulfide and sulfate), as well as of intermediate sulfur species (zero-valent sulfur (ZVS), thiosulfate, sulfite, thiocyanate) in the Yellowstone National Park (YNP) hydrothermal springs and pools. We combined these measurements with the measurements of quadruple sulfur isotope composition of sulfate, hydrogen sulfide and zero-valent sulfur. The main goal of this research is to understand multiple sulfur isotope fractionation in the system, which is dominated by complex, mostly abiotic, sulfur cycling.
Results
Water samples from six springs and pools in the Yellowstone National Park were characterized by pH, chloride to sulfate ratios, sulfide and intermediate sulfur species concentrations. Concentrations of sulfate in pools indicate either oxidation of sulfide by mixing of deep parent water with shallow oxic water, or surface oxidation of sulfide with atmospheric oxygen. Thiosulfate concentrations are low (<6 μmol L-1) in the pools with low pH due to fast disproportionation of thiosulfate. In the pools with higher pH, the concentration of thiosulfate varies, depending on different geochemical pathways of thiosulfate formation. The δ34S values of sulfate in four systems were close to those calculated using a mixing line of the model based on dilution and boiling of a deep hot parent water body. In two pools δ34S values of sulfate varied significantly from the values calculated from this model. Sulfur isotope fractionation between ZVS and hydrogen sulfide was close to zero at pH < 4. At higher pH zero-valent sulfur is slightly heavier than hydrogen sulfide due to equilibration in the rhombic sulfur–polysulfide – hydrogen sulfide system. Triple sulfur isotope (32S, 33S, 34S) fractionation patterns in waters of hydrothermal pools are more consistent with redox processes involving intermediate sulfur species than with bacterial sulfate reduction. Small but resolved differences in ∆33S among species and between pools are observed.
Conclusions
The variation of sulfate isotopic composition, the origin of differences in isotopic composition of sulfide and zero–valent sulfur, as well as differences in ∆33S of sulfide and sulfate are likely due to a complex network of abiotic redox reactions, including disproportionation pathways.
Keywords
Isotope geochemistrySulfur cycleSulfide oxidationSulfur disproportionationMultiple sulfur isotopesYellowstone national parkHydrothermal springs
Background
Yellowstone National Park (YNP) contains the highest density of accessible thermal features in the world, with a range of pH and sulfur chemistry conditions uniquely suited to investigating sulfur transformations. YNP is situated above a large magma chamber situated at a depth greater than 8 km and derived from a mantle plume interacting with the North American Plate that extends down 660 km into the mantle transition zone, tilting at a 60 WNW angle [1, 2]. The last significant eruption in Yellowstone was 0.6 Ma, with the last known volcanic activity occurring 70,000 years ago; hydrothermal activity is related to the convection of meteoric water driven by heat associated with the cooling magma chamber [3]. The hydrothermal reservoirs in this area are contained in units of alternating ash flow tuff and rhyolitic volcanic deposits, with the largest volumes of water likely contained in the relatively more permeable rhyolitic flows [2–4]. Hydrothermal water discharge in Yellowstone National Park is structurally controlled by fracture intersections associated with both the caldera rim and broader tectonic activity in the area [2, 3, 5]. Hydrothermal water composition is influenced by a combination of magmatic source fluids and gases, water-rock interactions, and water-vapor phase separation [3, 6]. Significant gaseous sulfur is released from magmatic sources in Yellowstone as H2S, with relatively little input of SO2[7–9]. The remarkable range of chemistries characterizing YNP thermal springs is due to a combination of these processes affecting the deep hydrothermal reservoir and the mixing with relatively oxic shallow meteoric waters.
Various water types identified at YNP are ultimately produced from a single deep sulfide-rich parent water body. According to Truesdell et al. [10] the chloride and sulfate concentrations and temperature of this water body are 8.74 mmol L-1, 115 μmol L-1, and 360°C, respectively. Fournier [3] proposed values of 11.3 mmol L-1 for Cl- concentration and 335–340°C temperature. In this work we based our quantitative interpretation of the data on the model proposed by Truesdell et al. [10]. This model is based on the observation that composition of most YNP thermal waters can be explained by steam loss during adiabatic cooling of mixtures of a single deep parent water body with shallow, cold waters. Water-rock interactions as well as dilution and boiling alter water composition. Mixing with oxygen-rich subsurface waters leads to oxidation of hydrogen sulfide to sulfuric acid, which was proposed to occur by both abiotic and microbial processes [9, 10].
The process of dilution of the parent water body as well as the process of hydrogen sulfide oxidation can be quantified by chloride to sulfate concentration ratios in the springs and pools [
10
] (Figure
1
). Subsurface waters are diluted with cold, aerated surface water. This process leads to dilution of chloride and a slight increase in sulfate concentrations (up to 115 μmol L
-1
). Further ascent to the surface leads to decompressional boiling in the case that water temperature exceeds 93°C. This temperature corresponds to 2.26 mmol L
-1
of chloride in the diluted parent water body. Boiling of ascending water with temperatures above 93°C leads to an increase in concentrations of both sulfate and chloride and does not affect chloride to sulfate ratios (Figure
1
). Sulfate concentrations, which plot above the array determined by dilution on Figure
1
, are due to sulfate produced by surface oxidation of parent water body sulfide.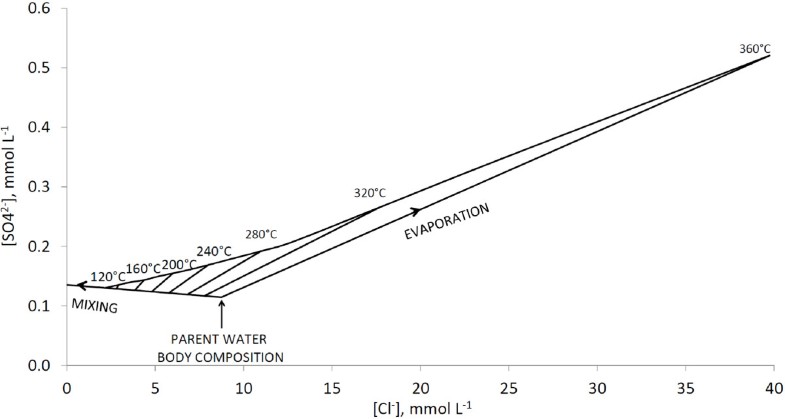 We used the Truesdell et al. [
10
] model to calculate the isotopic composition of sulfate as a function of chloride to sulfate concentrations ratios (Figure
2
). In the parent water body sulfate and sulfide are assumed to reach an equilibrium with δ
34
S(SO
4
)-δ
34
S(H
2
S) = 18‰ at 360°C [
10
]. In shallow water sulfate is produced by non-equilibrium oxidation of sulfide. In this model, both the initial sulfide composition and the fractionation during non-equilibrium oxidation are assumed to equal 0‰. According to this model, spring water with sulfate formed at low temperature has a δ
34
S = 0‰ as all sulfate is assumed to be produced by unidirectional chemical oxidation of hydrogen sulfide with mere zero fractionation. In reality there will be a small fractionation associated with sulfide oxidation as shown at lower temperature by Fry et al. [
11
]. The model also allows for the fraction of water sourced from the parent water body to be estimated from the chloride concentration of a spring (Figure
3
). At chloride concentrations < 2.2 mmol L
-1
, the parent water body is diluted enough that its temperature is below 93°C, and thus dilution is not accompanied by boiling. In this case (FPL and FPS), the exact fraction of parent water body water in spring water can be calculated. If the concentration of chloride is > 2.2 mmol L
-1
, it is a result of dilution and boiling, and only an interval of possible water compositions, rather than exact composition, may be calculated (Figure
3
).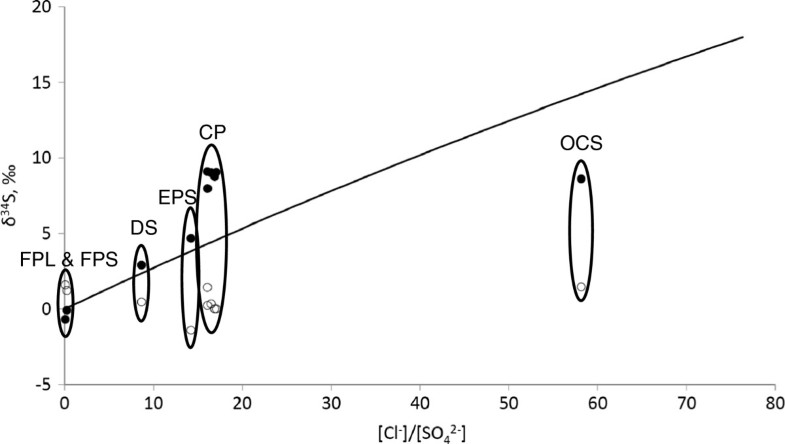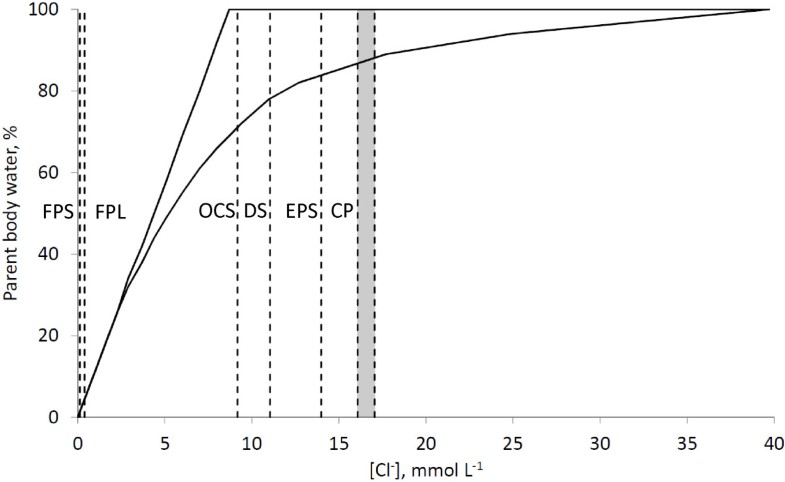 In addition to sulfate, some pools, especially those with circumneutral pH, contain high concentrations of thiosulfate [9], the intermediate product of sulfide oxidation by oxygen [12]. Zero-valent sulfur (ZVS) is another common constituent of hydrothermal springs and pools, being more common in acidic sulfate spring ([9] and references therein). A source of ZVS may be either oxidation of hydrogen sulfide [13, 14] or from buried solfataras [15].
Sulfur cycling in geothermal springs is known to be mostly abiotic [9, 15] though bacterial sulfate reduction occurs in sediments surrounding these springs. Microbial sulfate reduction rates in sediments of the Cinder Pool have been reported to be ≤2 nmol cm-3 day-1) [16] and 1 ± 0.27 nmol cm-3 day-1[17]. Even higher rates of microbial sulfate reduction were reported in the same works for microbial mats in run-off streams. Most of the microorganisms detected in YNP hot springs, including Cinder Pool, rely on hydrogen, rather than on hydrogen sulfide oxidation [18], in agreement with thermodynamic considerations presented in the same publication.
Springs also vary in complexity of sulfur cycling. Some pools discharge in outflow channels, that become oxygenated and cool rapidly, other springs form deep pools, which retain water for long times, resulting in a more complex sulfur cycle. Cinder Pool is the best studied of the pools with a complex sulfur cycle in surface waters [15]. The bottom of the Cinder Pool hosts a lens of molten sulfur. Hydrolysis of molten sulfur generates hydrogen sulfide, thiosulfate and sulfate. The surface of Cinder Pool is partially covered with the hollow "cinders", which consist of elemental sulfur and pyrite. Oxidation of thiosulfate to tetrathionate with atmospheric oxygen is catalyzed by pyrite [15].
Quantitatively, zero-valent sulfur is one of the most important sulfide oxidation intermediates in the Yellowstone National Park springs and pools. Zero-valent sulfur may be present in natural aquatic systems as four main forms: 1) solid (most probably crystalline, rhombic sulfur), colloidal sulfur [19], sulfur in the form of dissolved polysulfides [19–23], and dissolved (mostly cycloocta-) sulfur [24–26]. Existing analytical techniques for analysis of sulfur speciation in natural aquatic systems [27–29] as well as in understanding thermodynamics of water-sulfur-hydrogen sulfide system [30, 31], allows estimation and in some cases, precise quantification of ZVS speciation.
Thiocyanate is another sulfur species of interest in hydrothermal systems. Thiocyanate was detected in geothermal springs [32]. It was also found at the Red Sea Atlantic II brine in concentrations ranging from 23 to 40 μmol L-1[33]. Reactions between abiotic hydrogen cyanide and reduced sulfur species were proposed as the source of thiocyanate in the brine. Such reactions are well studied under controlled conditions [29, 34–37] as well as in salt marsh sediments [38].
Analysis of quadruple sulfur isotope fractionation is an important novel tool, which was successfully applied to biogeochemical sulfur cycling in modern marine [39] and limnic [40–42] aquatic systems as well as for understanding of sulfur cycling in ancient oceans [43–47]. Small variations in mass-dependent fractionation of multiple sulfur isotopes were proposed to result from complex mass-flow of this element through enzymatic systems [48]. A limited number of studies were performed on multiple sulfur isotope fractionation during sulfate reduction, sulfur disproportionation and sulfide oxidation. Multiple sulfur isotope fractionation during abiotic sulfur cycling in natural aquatic systems was not studied and thus was neglected in previous studies.
In this paper we present a combined study of concentrations of various sulfur species as well as of quadruple sulfur isotope composition of major (sulfate and sulfide) sulfur species and of elemental sulfur in the YNP hydrothermal springs and pools. This study was performed in order to understand multiple sulfur isotope fractionation in the system, which is dominated by a mostly abiotic oxidative part of the sulfur cycle, and to understand how isotopic signals are transformed in sediment. Such data should bear on understanding of sulfur cycling in modern aquatic systems and ancient ocean.
Results and discussion
Six springs and pools were sampled during a field campaign in May–June, 2010 (Table
1
). All sampled pools have temperatures between 72–93°C, but the pH varied from very acidic (1.7 in FPL) to circumneutral (7.4 in OCS) (Table
1
). Chloride to sulfate ratio varied from 0.068 in the most acidic pool to 58.2 in the most basic pool. Concentrations of sulfide varied from 16 μmol L
-1
(EPS) to 121 μmol L
-1
(DS).
Table 1
Temperature, pH and concentrations of sulfur species in YNP springs
| Spring | FPL | FPS | DS | EPS | OCS | CP, 0 m depth | CP, 4 m depth | CP, 8 m depth | CP, 12 m depth | CP, 16 m depth |
| --- | --- | --- | --- | --- | --- | --- | --- | --- | --- | --- |
| pH | 1.7 | 3.5 | 3.4 | 6.5 | 7.4 | 4.7 | 4.7 | 4.7 | 4.7 | 4.2 |
| T,°C | 72 | 74 | 76 | 81 | 93 | 75 | 75 | 76 | 77 | 79 |
| [SO42-] | 5659 ± 40 | 520 ± 5 | 1276 ± 15 | 984 ± 8 | 158 | 557 | 563 | 552 | 564 | 562 |
| [Cl-]/[SO42-] | 0.068 | 0.256 | 8.65 | 14.2 | 58.2 | 28.9 | 28.5 | 29.9 | 29.9 | 30.4 |
| [H2S] | 32.8 ± 0.8 | 52.3 ± 1.1 | 121.1 ± 8.3 | 15.5 ± 1.0 | 30.7 ± 2.2 | 28.7 ± 5.4 | 26.2 ± 0.8 | 26.1 ± 1.1 | 22.8 ± 1.0 | 25.5 ± 0.7 |
| [S0]total | 461 ± 205 | 91.7 ± 8.6 | 5.52 ± 3.32 | 3005 ± 504 | 0.148 ± 0.063 | 14.8 ± 2.7 | 15.1 ± 3.0 | 13.3 ± 0.5 | 47.9 ± 49.1 | 27.2 ± 7.5 |
| [S0]cyanolysis | 1.05 (0.2) | 37.5 (40.9) | 0.922 (16.7) | 26.5 (0.9) | n.a. | 3.29 (22.3) | 2.95 (19.6) | 4.33 (32.5) | 4.19 (8.7) | 2.78 (10.2) |
| [S2O32-] | 5.29 ± 0.19 | 2.94 ± 0.06 | 3.79 ± 0.36 | 559 ± 25 | 4.02 ± 2.34 | 127.8 ± 4.6 | 125.6 ± 1.8 | 125.2 ± 2.5 | 129.9 ± 3.9 | 126.1 ± 1.4 |
| [SO32-] | 0.365 ± 0.090 | 0.584 ± 0.060 | 1.47 ± 0.08 | 2.57 ± 0.70 | 1.07 ± 0.60 | 4.49 ± 0.49 | 4.76 ± 0.07 | 3.30 ± 1.84 | 4.49 ± 0.38 | 4.16 ± 0.39 |
| [SCN-] | 0.192 ± 0.013 | 0.164 ± 0.005 | 0.196 ± 0.013 | 0.240 ± 0.030 | 0.791 | 0.133 | 0.595 | 0.138 | 0.311 | 0.431 |
Declarations
Acknowledgements
Funding for this research was provided by Marie Curie Outgoing International Fellowship SULFUTOPES number POIF-GA-2008-219586 (to A. K.), NASA Exobiology and Evolutionary Biology program, solicitation number NNH08ZDA001N-EXOB (to A. K., G. K. D. and J. F.). GKD additionally acknowledges funding support from NSF EAR CAREER grant 1304352 and NSF MRI grant 0922961. The Research Permit office at Yellowstone National Park (NPS permit YELL-05474) is gratefully acknowledged for arranging sampling permission at Cinder Pool. Alyssa Findlay (UVM) and Don Nuzzio (Analytical Instrument Systems) are gratefully acknowledged for field, lab, and instrumental assistance.
Authors' Affiliations
(1)
Department of Geology and Earth Systems Science Interdisciplinary Center, University of Maryland, College Park, USA
(2)
Max-Planck Institute for Marine Microbiology, Department of Biogeochemistry, Bremen, Germany
(3)
Department of Geological and Environmental Sciences, The Faculty of Natural Sciences, Ben-Gurion University of the Negev, Beer Sheva, Israel
(4)
Department of Earth Sciences, Indiana University Purdue University Indianapolis, Indianapolis, USA
Copyright
© Kamyshny et al.; licensee BioMed Central Ltd. 2014
This article is published under license to BioMed Central Ltd. This is an Open Access article distributed under the terms of the Creative Commons Attribution License (http://creativecommons.org/licenses/by/2.0), which permits unrestricted use, distribution, and reproduction in any medium, provided the original work is properly credited.