A computational chemical study of penetration and displacement of water films near mineral surfaces
Geochemical Transactions
2001
2:35
Received: 11 June 2001
Accepted: 07 August 2001
Published: 28 August 2001
Abstract
A series of molecular dynamics simulations have been performed on organic–water mixtures near mineral surfaces. These simulations show that, in contrast to apolar compounds, small polar organic compounds such as phenols can penetrate through thin water films to adsorb on these mineral surfaces. Furthermore, additional simulations involving demixing of an organic–water mixture near a surfactant-covered mineral surface demonstrate that even low concentrations of adsorbed polar compounds can induce major changes in mineral surface wettability, allowing sorption of apolar molecules. This strongly supports a two-stage adsorption mechanism for organic solutes, involving initial migration of small polar organic molecules to the mineral surface followed by water film displacement due to co-adsorption of the more apolar organic compounds, thus converting an initial water-wet mineral system to an organic-covered surface. This has profound implications for studies of petroleum reservoir diagenesis and wettability changes.
Keywords
CalciteMineral SurfaceCarbazoleWater FilmPhenol Molecule
Introduction
Adsorption of organic solutes on mineral surfaces is an important process in many natural and engineered environments and is particularly important in controlling the distribution of organic compounds in the subsurface. Molecular transformations related to the chemisorption of organic matter can remove organic contaminants from soils and sediments[1, 2] and have also been associated with diagenetic alterations in biomarker compounds.[3] Physisorption of organic molecules on mineral surfaces controls the wettability of permeable rocks and thus capillary pressure terms in multiphase fluid flow[4] and has been proposed as a factor controlling the composition of migrating petroleum. [5–7] Furthermore, oil wetting of mineral surfaces has been proposed to retard or stop diagenesis and cementation of oil reservoirs.[8] In this paper we report on investigations using molecular dynamics calculations[9, 10] (MD) on a possible chain of events that could change an initially water-wet mineral surface to an oil (or more apolar)-wet surface. We hypothesise that this chain of events involves a penetration of the water film covering the mineral surface by small relatively hydrophilic polar organic molecules which physisorb to reduce mineral surface polarity, followed by an adsorption of apolar organic molecules on the thus preconditioned surface. To evaluate this two-stage adsorption mechanism a series of simulations have been performed studying the stability of water films adsorbed on mineral surfaces as a function of the polarity of an adjacent organic phase. For the organic phase a set of compounds ranging from cyclohexane (highly apolar), carbazole (apolar), phenol (polar) to acetic acid (highly polar) was used. For each organic phase two simulations were performed, one starting with a randomly distributed organic–water mixture and the other with completely demixed water and organic phases, with the water film wetting the mineral surfaces.
The inorganic component of the simulations constituted of a (1,-1,1) calcite and a (1,1,1) α-quartz surface. Both calcite and quartz are important contributors to the sediment mineral matrix and authigenic cements. To facilitate comparison of mineral surface effects on organic–water phase composition a completely hydroxylated α-quartz surface was used in the simulations, instead of replacing part of these hydroxyl groups with oxygen bridges (which is more realistic at neutral pHs). Thus, both the calcite and the α-quartz surface presented a homogeneous surface to the organic/water phases.
Finally, to assess the surfactant behaviour of small polar molecules, a set of simulations was performed in which the calcite surface was selectively and partially covered with phenol molecules. This system was covered with a water film and brought into contact with an apolar cyclohexane phase. Sorption of small polar molecules such as phenols to mineral surfaces has been shown to occur during both simulated and natural petroleum migration[11, 12] through initially water-wet rocks. By comparing the results from these simulations with those from the cyclohexane–water–mineral surface simulations the influence of pre-adsorption of small polar organic molecules on the final wettability of mineral surfaces to apolar components could be monitored.
Methods
Charge distributions
For the organic molecules charge distributions were calculated using the Electronegativity Equalization Method (EEM[
13
]). EEM uses atomic electronegativity and hardness to determine a geometry-dependent molecular charge distribution. The EEM parameters for carbon, nitrogen, oxygen and hydrogen were derived by using the fitting procedure described by Njo
et al
.[
14
] The EEM parameters for the organic compounds were optimised to reproduce the MKS charges for proteins as reported by Cornell
et al
.[
15
] Fig.
1
shows the reproduction of the MKS protein charge distributions using the optimised EEM parameters (Table
1
). Fig.
2
shows the EEM charge distributions for carbazole, phenol and acetic acid as used in the simulations.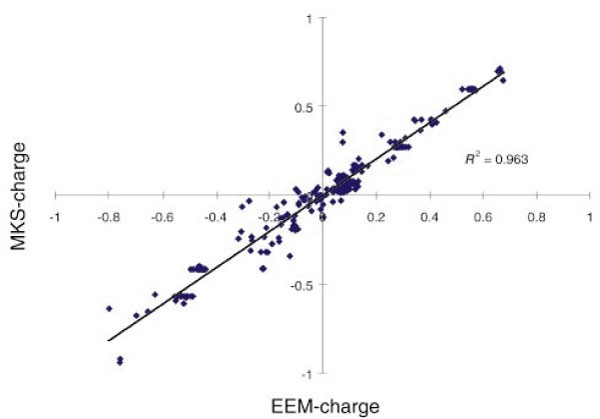 Table 1
EEM parameters as derived to reproduce peptide MKS charge distributions
| Atom type | Electronegativity, γ/eV | Hardness, η/eV |
| --- | --- | --- |
| H | 3.2 | 14.5 |
| C | 6.2 | 8.4 |
| N | 5.6 | 9.5 |
| 0 | 8.5 | 9.5 |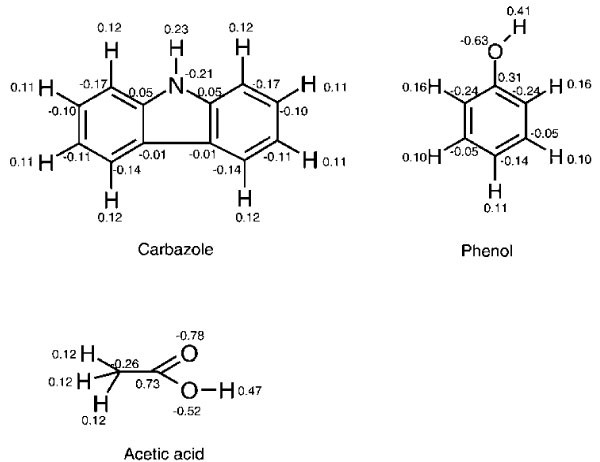 To allow a proper description of Coulomb interactions between charges qi and qj on neighbouring atoms in the inorganic phases a shielding-term σij was incorporated,[14] adjusting the Coulomb interaction for electron orbital overlap as described in eqn. (1), where qi and qj are the atomic charges (in atomic units), e is the elementary charge, 4πεo is the vacuum permittivity and rij is the interatomic distance (in Å).
For the organic compounds, 1–2 and 1–3 Coulomb interactions were not taken into account. For these compounds shielding parameters of 0.2 were used, effectively removing the shielding influence from the Coulomb potential. Table
2
shows the charge distributions and shielding parameters used for the mineral phases. The α-quartz charge distribution was taken from Demiralp
et al
.,[
16
] calcite charges were initially taken from Tobias and Klein.[
17
] However, since Tobias and Klein employ a Lennard-Jones potential to calculate van der Waals interactions while we employ a Morse-potential as described by Demiralp
et al
. these charges were modified to reproduce bulk densities of calcite and aragonite.
Table 2
Charge distributions and shielding parameters σi used for the mineral phases
| Atom | Charge/atomic units a | σi/Å b |
| --- | --- | --- |
| Si | 1.3 | 2.22 |
| Oquartz | -0.67 | 1.02 |
| Hquartz | 0.365 | 0.79 |
| Ca | 1.43 | 1.23 |
| Ccalcite | 0.97 | 1.54 |
| Ocalcite | -0.80 | 1.02 |
Force fields
For the α-quartz phase the parameters derived by Demiralp et al.[16] were used, expanded with parameters to describe the surface hydroxyl groups. For the calcite phase force field parameters were determined using the Morse functional form in eqn. (2) as described by Demiralp et al.[16] This Morse-potential was used to describe both the inter-and intramolecular van der Waals interactions as well as the covalent Si-O, C-O and O-H bonds in the mineral phases.
For cyclohexane, a united atom approximation was used in which the CH
2
-groups are described as a single, charge-neutral, atom. As such, the cyclohexane molecules in our simulations are completely non-polar (more apolar than realistic cyclohexane molecules) and as such provide an extreme case in our partitioning simulations. United CH
2
-atom parameters were taken from DeBolt and Kollman.[
18
] For the other organic compounds the AMBER-protein force field[
15
] was used, alongside EEM-charges based on the MKS-method as described in the previous section. To allow the use of straightforward combination rules to describe inorganic–organic van der Waals interactions the Lennard-Jones potential, used in the AMBER-force field to describe these interactions, was replaced by the Morse-potential used in eqn. (1). Morse parameters for the organic compounds were determined by fitting them to the AMBER Lennard-Jones potential (Table
3
). The water molecules were described using the transferable intermolecular potential 3 (TIP3P) of Jorgensen
et al
.[
19
] in which the original TIP3P Lennard-Jones parameters were again used to determine suitable Morse parameters (Table
3
).
Table 3
Morse potential parameters used for the mineral phases a
| Atom-atom pair | Ro/Å | Do/kcal mol-1 | γ |
| --- | --- | --- | --- |
| N | 3.6480 | 0.17 | 13.0 |
| Osp2 | 3.3224 | 0.21 | 13.00 |
| Osp3 | 3.3674 | 0.17 | 13.00 |
| Csp3 | 3.8160 | 0.109 | 13.00 |
| Csp2 | 3.816 | 0.086 | 13.00 |
| H | 2.8740 | 0.016 | 13.75 |
| Owater | 3.5360 | 0.152 | 13.75 |
| Hwater | 3.2428 | 0 | 10.15 |
| CH2 united atom b | 4.3830 | 0.1200 | 13.00 |
| Si c | 3.4103 | 0.2956 | 11.71 |
| Si–Omineral c | 1.6148 | 46.0 | 8.80 |
| Si–Hmineral | 3.2428 | 0.0655 | 10.90 |
| Omineral c | 3.7835 | 0.5363 | 10.41 |
| Omineral–Hmineral | 0.9400 | 56.0 | 12.82 |
| Hmineral | 3.0752 | 0.0145 | 10.15 |
| Ca | 3.7104 | 0.3556 | 11.71 |
| Ca–Cmineral | 3.7013 | 0.1370 | 10.98 |
| Ca–Omineral | 3.7070 | 0.3321 | 9.04 |
| Cmineral | 3.6922 | 0.0528 | 10.30 |
| Cmineral–Omineral | 1.280 | 56.0 | 18.80 |
MD simulations
The simulations were performed using the Delphi program.[20] All simulations were performed at a simulated temperature of 298 K using a time-step of 2 fs. The system temperature was held constant using the algorithm described by Berendsen et al.[21] using a temperature damping constant of 2000 fs. Bonds and bond angles were held stationary during the simulation using the approach described by Andersen.[22] Apart from the surface hydroxyl groups, mineral phase atom positions were kept fixed during the simulations.
A cutoff radius of 8.5 Å was used in all simulations. The system energy was corrected for van der Waals interactions beyond this range.[9] To ensure a stable simulation of the Coulomb interactions a 7th order taper function was applied as described by de Vos Burchart.[23]
To allow for a direct comparison between the processes at both the calcite and α-quartz interface a periodic cell (dimensions 24.906 × 40.00 × 19.806Å) was generated containing a slab of both minerals. For α-quartz a hydroxylated slab containing 6 × 1 × 4 orthogonalised unit cells (dimensions: 25.528 × 7 × 19.652Å) was constructed, while for calcite a 4 × 1 × 4 slab was generated, with dimensions 24.284 × 9 × 19.960 Å. Cell parameters of these two mineral phases were averaged in the
a-
and
c-
directions to make both fit within the same cell dimensions, and atom coordinates were scaled accordingly. The α-quartz and calcite slabs were separated by 24 Å, thus leaving a volume of 24.906 × 24 × 19.806 Å between them that was filled with the organic–water mixtures. 50 vol.% of this interslab space was filled with organic compounds and the other 50 vol.% with water, both at densities in accordance to their respective bulk densities at standard conditions. Table
4
shows the resulting compositions for the simulated systems. For all these system compositions, both a random (mixed components) and a demixed (separate compound phases) configuration was generated. These configurations were subjected to a short, low-temperature (
T
= 25 K) MD-run to remove short contacts. Hereafter, MD simulations were performed at
T
= 298 K until the systems reached steady-state. Molecular trajectories from these steady-state systems, containing 100,000 iterations (equivalent to a time interval of 100,000 × 2 fs = 0.2 ns), were used to determine position-dependent diffusion constants and average molecular
y
-coordinates. Separate simulations were performed to determine the influence of simulation temperature and system size on the position-dependent diffusion constants in the phenol–water system.
Table 4
System compositions used in the MD simulations
| System | # organic molecules | # water molecules |
| --- | --- | --- |
| Cyclohexane–water | 34 | 198 |
| Carbazole–water | 17 | 198 |
| Phenol–water | 34 | 198 |
| Acetic acid–water | 51 | 198 |
Conclusion
A series of MD simulations were performed to study the phase behaviour of organic–water mixtures in the presence of α-quartz and calcite surfaces. Upon changing the polarity of the organic phase by going from a charge-neutral cyclohexane via apolar carbazole and polar phenol to highly polar acetic acid distinct changes in phase behaviour are observed. Cyclohexane and carbazole form discrete organic phases removed from the mineral surfaces by a water film; phenol and acetic acid show a sufficient water solubility to penetrate through these films to compete with the water molecules for mineral surface adsorption sites. Potential biases in these observations, due to simulation conditions, were tested by changing the MD-starting organic–water configurations from completely random to completely phase-separated and by changing the system size and simulation temperature, and neither of these were found to have significant effects on the accessibility of the mineral surfaces for the organic compounds.
Further MD simulations with pre-adsorbed phenol compounds on a calcite surface demonstrate that these small polar molecules can have a profound impact on surface wettability, making the mineral surface accessible to even completely non-polar compounds. This provides strong support for a two-stage process incurring wettability changes in mineral systems, commencing with small polar species migrating to the initially water-wet mineral surface, thus changing its surface characteristics, after which the rest of the water phase gets replaced by more apolar compounds adsorbing on and around these polar surfactants.
Declarations
Acknowledgements
This work was supported by a Royal Society Research Fellowship and by TMR grant No. ERBFMBICT971871 for ACTvD. We thank the reviewers for their helpful suggestions and remarks.
Authors' Affiliations
(1)
Fossil Fuels and Environmental Geochemistry (Postgraduate Institute), Newcastle Research Group (NRG), University of Newcastle, Newcastle upon Tyne, UK
Copyright
© The Royal Society of Chemistry and the Division of Geochemistry of the American Chemical Society 2001